Haría, Lanzarote
The town of Haría is the capital of the municipality of the same name on Lanzarote.
Haria lies surrounded by Volcanos, in the north of Lanzarote, in the "Valley of the Thousand Palms" and there is no other place on the whole island where canary palms grow in such a variety.
It is said that whenever a girl was born in Haría, a new palm tree grew.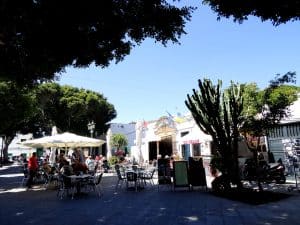 Haría was often exposed to invasions and pirate attacks throughout his history. In the most devastating of 1586, almost the entire palms were burnt down. The neoclassical buildings at the Plaza de la Constitución date the 19th century, when Haría was temporarily the seat of a constituent assembly. Especially in the 1950s, when during the Franco era many inhabitants moved their homeland in Haría towards South America, Haría suffered under a land run. To this day some of the houses are empty.
Center of the village of Haría is the long, shaded Plaza León y Castillo with laurel and eucalyptus trees. At the eastern end of the square stands the Iglesia de Nuestra Señora de la Encarnación, reconstructed in 1956 after a heavy storm. Near the Plaza de la Constitución lies the Taller Municipal de Artesania handicraft center, where traditional embroidery, baskets and cloaks are made.
Around the ecclesiastical holiday of San Juan (June 24 to 27 June) colorful salt mats with different motifs are laid out on the streets. This happens during the day and one can observe the people at work before the next day a procession with St. Juan destroys these salt pictures.
In the cemetery of Haría you will find the grave of the artist and conservationist of the island, César Manrique, who moved to a farmhouse, which he rebuilt in 1988, and on 25 September 1992 in his old age Of 73 years he died after an car accident.
Haría is one of the seven municipalities of Lanzarote, with a total population of 4,755 (1 January 2015) on a total area of ​​106,58 km².
The address of the municipal administration is: Plaza de la Constitución, 1, 35520 – Haría,
Website: www.ayuntamientodeharia.com
Haría is know as the valley of thousand Palms, the Saturday Handcraft-Market is a good destination for a trip. César Manrique lived here the rest years of his life, you can visit his house (Museum) every day.