La Graciosa – The Graceful, Lanzarote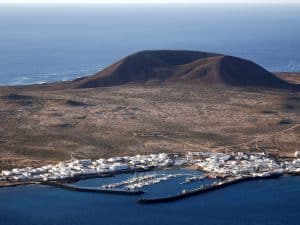 La Graciosa is usually only viewed from Mirador del Rio and not planned as an excursion. However if you're planning a longer stay on Lanzarote, you should visit the "little sister".
From the small fishing village of Órzola, two companies – Lineas Romero and Biosfera Express, travel daily to La Graciosa, a 30 minute journey. Make yourself comfortable on the 2 decks. Crossings may be a little rough depending on the weather. Below deck is especially interesting for children. Though the glass bottom of the ship one can observe the sea life.
The ferry births at the port of Caleta del Sebo, one of two inhabited villages on La Graciosa. Tourism is still in its infancy, however Caleta del Sebo has restaurants, a bakery, a guest house and even a small nightclub. The locals sunbathe in the beautiful sandy cove of Caleta de Arriba not far from the pier. Awaiting the arrival of ferries are locals with Jeeps. This a good way to travel and also to find out firsthand about life on the island. A one way trip to the beach – Playa de las Conchas costs € 10 or a little bit less. The beach is also accessible on foot, but on hot days, one should consider whether to walk both ways or take a Jeep.
Playa de las Conchas – the beach of shells has a Caribbean feel – white, warm sand and turquoise clear blue water. Spread your towel, make yourself comfortable and enjoy your picnic. Souvenirs of this heavenly place are easy to come by. Take a walk and you'll find plenty of interesting shells. Long-distance swimming is not recommended at Playa de las Conchas, due to the strong currents. However there's no problem with surfing with the huge waves.
The walk back to Caleta de Sebo takes about one and a half hours and passing jeeps tend to swirl the sand on the road, so you're likely to return a little dusty.
Recommend is the last ferry at 6pm during the summer months. When the last tourists leave the island, the hustle and bustle goes with them. The ferry journey back to Órzola is something to sit back and enjoy, as the sun goes down and you gaze at the changing colours on the horizon. For those who decide to stay over night on La Graciosa, a dream experiences awaits – utter peace and tranquility, evening walks along the beach in the setting light of the orangy sun.
Back in the port of Órzola as you disembark and make you're back to civilisation, provision for the 700 inhabitants of La Graciosa are loaded, giving a feeling that they live a world far apart from hectic western society.
Don't forget your swimsuit, comfortable shoes, a towel and sun protection. It can be very sunny and hot on La Graciosa.
LINEAS MARITIMAS ROMERO
Orzola → La Graciosa
MON-SUN: 08.30 h, 10.00, 11.00, 12.00, 13.30, 16.00, 17.00, 18.00
La Graciosa → Orzola
MON-SUN: 08.00 h, 08.40, 10.00, 11.00, 12.30, 15.00, 16.00, 17.00
BIOSFERA EXPRESS
Orzola → La Graciosa
MON-SUN: 08.00 h, 09.00, 10.30, 11.30, 13.00, 16.30, 17.30, 18.30
La Graciosa → Orzola
MON-SUN: 07.00 h, 08.10, 09.30, 10.30, 11.30, 15.30, 16.30, 17.30